[frame="1 10"]
السلام عليكم ورحمة الله وبركاته
today i bring some Muffins recipes .....i collect them and i wish you enjoy them and its easy also...all the ingredients are handy and present in all houses
may allah bless you all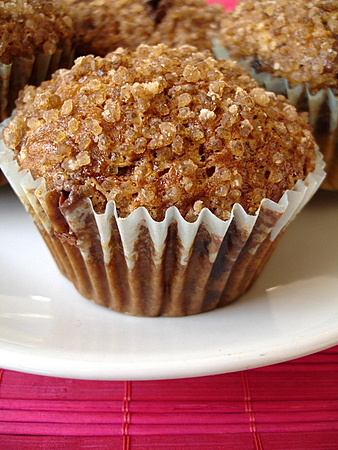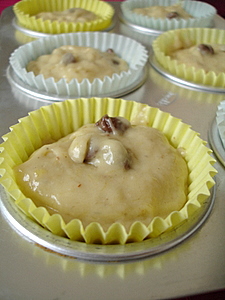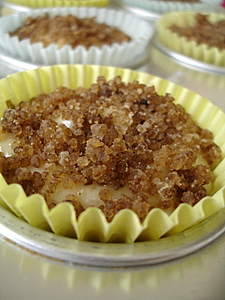 Ingredients:




4 very ripe large bananas, mashed




1 cup all purpose flour (maida)




1/2 cup whole wheat flour (atta)




1/3 cup unsalted butter, melted




1 tsp baking powder




1/2 tsp baking soda




1/4 tsp salt




1/2 tsp cinnamon pwd




1/2 cup brown sugar




1/4 cup white sugar




2 tbsps yogurt




1 tsp vanilla essence




1/2 cup chocolate chips (optional)




For crumb:




1 1/2 tbsp brown sugar (I used demarara sugar)




1 tbsp all purpose flour




1/2 tbsp butter








Preheat oven to 350 degrees F (180 degrees C) and place the oven rack in the middle




of the oven.




2 In a large bowl combine the flours, sugars, baking powd, baking soda, cinnamon pwd, salt and chocolate chips. Use a whisk to combine. Set aside.




3 In another bowl combine the mashed bananas, yogurt, butter and vanilla. With a wooden spoon, lightly fold the wet ingredients (banana mixture) into the dry ingredients until just combined and batter is thick. Do not over mix the batter.




4 Prepare crumb by combining together the brown sugar, flour and butter. Keep aside.




5 Spoon the batter into the prepared muffin liners half way through and sprinkle some crumble on top of each muffin. Bake for about 22-25 minutes or until a toothpick inserted in the center comes out clean.




6 Place on a wire rack to cool and remove muffins from pan. Serve warm or at room temperature.






the second recipe






to a family breakfast, or for breakfast on the go.




#largeImage a img{border:none;} #largeImage a {cursor:default;} #largeImage a.video {cursor:pointer;}
Summer Berry Muffins
Prep time: 10 minutes *****ng time: about 20 minutes
You Will Need
1/2 cup whole-wheat flour
1/3 cup white flour
1 tablespoon baking powder
Pinch salt
3/4 cup mixed fresh berries, such as blueberries and raspberries
2 tablespoons reduced-fat margarine spread
1/4 cup light brown sugar
1 egg, beaten
1 cup fat-free milk
What to Do
1. Preheat the oven to 375°F. Use paper muffin liners to line a 9-cup muffin tray or coat with *****ng spray.
2. Sift the flours, baking powder, and salt into a bowl. Gently fold in the mixed berries.
3. Melt the margarine gently in a small saucepan, then add the sugar, egg, and milk and mix until smooth. Make a well in the center of the dry ingredients and pour the liquid ingredients into the well. Gently fold the ingredients together, mixing just until combined. The batter will be lumpy.
4. Spoon the batter into the muffin cups, filling each about two-thirds full. Bake until the muffins are golden brown, about 18 to 20 minutes.
5. Transfer to a wire rack to cool slightly, then serve warm. The muffins can be kept in an airtight container for 1 to 2 days.
Some More Ideas
Instead of a mixture of white and whole-wheat flour, use all white or all whole-wheat flour. For a hint of spice, add 1 1/2 teaspoons ground mixed spice, ginger, or cinnamon with the flour.
Replace the berries with other fresh fruit, such as chopped apples, apricots, peaches or strawberries, or dried fruit, such as raisins, chopped apricots, dates or figs.
Pear and cinnamon oatmeal muffins: Mix 3/4 cup self-rising whole-wheat flour, 1/4 cup oat bran, 1 teaspoon baking powder, 1 1/2 teaspoons ground cinnamon, and a pinch of salt in a bowl. Fold in 1 peeled and chopped pear. In a separate bowl, mix together 2 tablespoons melted reduced-fat margarine spread, 1/4 cup granulated sugar, 2 eggs, and 1/2 cup plus 2 tablespoons orange juice. Pour this over the flour mixture and fold the ingredients together. Spoon into 9 muffin tins and bake as in the main recipe.
Serves: 9
the third recipe
Slightly Unusual –but Totally Good– Apple Lavender Muffins
Recipe makes 12 muffins.
Ingredients:
1 1/2 C. all-purpose flour
1/2 C. granulated sugar
2 tsp. baking powder
1/2 tsp. salt
1/2 C. milk
1 tbsp. dried or fresh lavender flowers
1/4 C. butter, melted and cooled
1/4 C. vegetable oil
1 egg, beaten
1 lg. baking apple, peeled and finely chopped (about 1 C.)
Instructions: 1. Preheat the oven to 375 degrees F.
2. Grease muffin pans or line with muffin papers.
3. In a large mixing bowl, sift together the flour, sugar, salt, and baking powder.
4. In a smaller bowl, mix milk, lavender, butter, oil, and egg.
5. Make a well in the center of the dry ingredients, and add milk mixture. Stir just til combined– don't overmix.
6. Fold in diced apple.
7. Bake 25 to 30 minutes, until golden.
the fourth recipe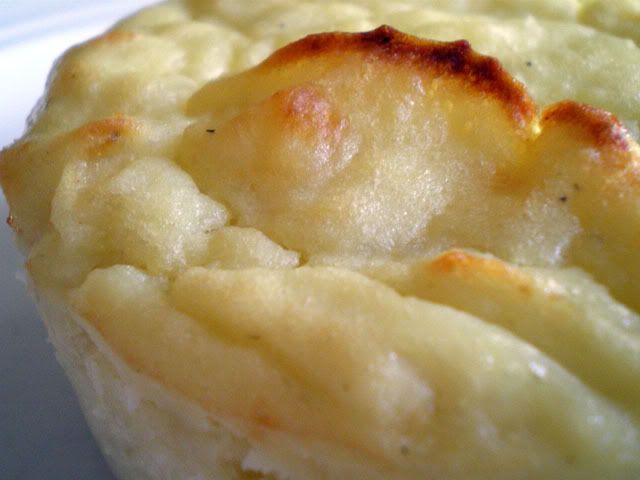 Mashed Potato Puffs
adapted from LCBO Food and Drink
3 lbs potatoes, peeled
1 cup cottage cheese
4 eggs
1/4 cup butter, softened
3 green onions, diced (white part only)
salt and pepper (use white pepper if you don't want flecks)
1. Boil the potatoes well. Boil the crap out of them. Drain and return to the burner. Continue to **** the potatoes over low heat for about 5 more minutes (stir so they don't stick) this will get all the extra water out of the potatoes.
2. Mash the potatoes very well. We want NO LUMPS. I put the potatoes through a potato ricer which takes care of that nicely.
3. In another bowl, with a hand mixer, beat the eggs, butter and cottage cheese until fluffy. Add in the potatoes and onions and beat with hand mixer until all mixed together.
4. Put the mixture into a greased casserole dish, or muffin tins. This is where you can let it cool and refridgerate, if you are making them ahead (let them come back to room temperature before baking though).
5. Bake in a 450°F oven for about 25 minutes (a little more if you are making them in a big casserole dish). The potatoes should puff up and get a little brown on top
the fifth recipe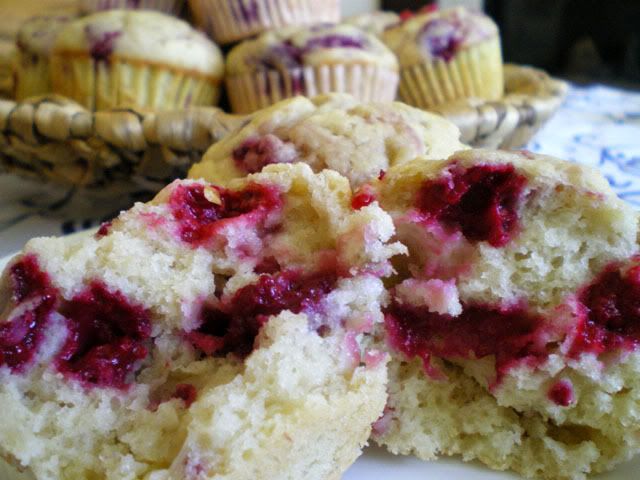 Banana Raspberry Muffing (without Chocolate Chips)
makes 12 good size muffins
2 1/4 cups flour
3/4 cup sugar
1 tbsp baking powder
1/2 tsp salt
3/4 cup milk
1/2 cup oil
1 medium ripe banana, mashed
1 large egg
1 tsp vanilla
1 cup raspberries fresh or frozen (I don't waste fresh on muffins!)
1. Mix flour baking powder, sugar, and salt.
2. Mix milk, oil, banana, egg and vanilla.
3. Mix wet ingredients into dry ingredients. Don't overstir.
4. Stir in raspberries. Spoon into greased muffin tin.
5. Bake 20-25 minutes at 375°F.
i wish you enjoy my collection of these muffins
don/t be mean to respond
hhhhhhh
[/frame]