Chicken Sandwich Seasonings and Topping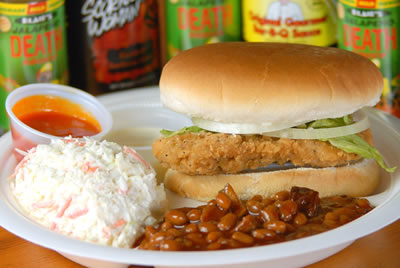 Ingredients:
* 4 chicken fillets or breasts (frozen "grilled" style work well)
* 4 large round rolls
* lettuce leaves
* 4 ounces of cheese and ingredients from the variations below
Preparation:
Grill, bake, microwave, or broil the chicken fillets according to package directions or your recipe with seasonings. Place lettuce leaves and chicken on buns and top with the desired topping from the variations below.
Cajun
Sprinkle chicken with Cajun seasonings before *****ng. Top *****d chicken with sliced cheese with peppers. Spread buns with Thousand Island salad dressing mixed with a few dashes bottled hot pepper sauce and top with roasted red sweet pepper strips.
Pizza
Season chicken with dried Italian seasoning before *****ng. Top *****d chicken with sliced mozzarella cheese. Place in a bun and spoon some pizza sauce atop cheese. Top with thinly sliced zucchini or other veggies, if desired.
Barbecue
Season chicken with chili powder before *****ng. Top *****d chicken with sliced cheddar cheese. Place in bun. Spoon barbecue sauce atop. Top with half-slices of *****d bacon and/or fresh onion rings.